Hey Ladies,  You don't have to worry, I will not be doing this all the time, but I did want to take the opportunity to share with you a wonderful way to support Chocolate and God and enjoy some beautiful jewelry every month at the same time!  We have 2 subscriptions with JBloom, one is our Earring Extravaganza: For just $17 a month which includes shipping, you will receive exclusive to members.  They are great for gifts or just to boost your day!  The earrings are always valued at $18 – $27 and are nickel free!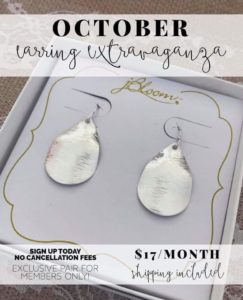 We also have our box of the month which is explained in the short video below!   It is only $49 a month and I noticed that the total for the items I received in my box this month would have cost me approx. $90 plus shipping!  It came on a day when I just really needed a little boost in my day and I absolutely love it!
If you are interested in subscribing please email me, I will have to set it up for you!  You can cancel your subscriptions at any time!
And just so you know, not everything that comes in the box is silver.  I just happened to pick 2 that are.  Let me know if you have any questions.  My email address is janet@chocolateandgod.com
If you would like to place a one time order you can check out the catalogs on my website!  There are many pieces that you can personalize with your favorite verse, date, name or Bible verse!  CLICK HERE for my website
Thank you all!
God Bless,
Janet Scott