Numbers 14:1 and 4. Then all the congregation raised a loud cry, and the people wept that night…..And they said to one another, "Let us choose a leader and go back to Egypt."
The spies that Moses had sent out to check out the promised land had just come back and had given a negative report of what the people would face going into the land.  Joshua and Caleb tried to convince the people that with God's help they could take the land, just like God said they would.  After seeing all the miracles God had done for them since He brought them out of Egypt, they still had no faith that He would drive the people of the land out as He promised!
We can wonder what their problem was and we have pretty good insight into what we would tell them if given the chance, but that is because we can see the full picture.  But what about you?  Is there something you know God has given you to do but you are allowing fear to keep you from all He has for you?  Is there a business opportunity or new job that you are so afraid of failing at that you won't do what you need to do to be successful?  Is there a relationship that needs to be restored in your life?  Are you facing a mountain of illness or addiction that you just don't see a way through to the other side?  Don't allow fear to consume your faith!  Hold on to the promises of God!  Until you get a "NO" from Him if you believe you are within His will then believe for His best and move with confidence toward that!  There will be struggles and satan will do his best to discourage you, but dig in and set your mind to do what God is asking you to do and know that He will help.  Just because it isn't easy, doesn't mean that it isn't right, life is rarely easy, but it is worth the struggle to do what is right!
There are always going to be battles in life and struggles that can overwhelm, but if you know you are doing the will of God, then rest assured that you are not alone and He didn't bring you to this point to fail.  Trust Him!  Look for His best, pray for His favor, and for Him to bring the right people into your life!  Don't run!  Hold on to His promises, remember Jeremiah 29:11, "For I know the plans I have for you," declares the Lord, "plans to prosper you and not to harm you, plans to give you hope and a future."  Carry that verse with you, pull it out when you need to be reminded, and trust Him that the best is yet to come!
Quote:   The journey of a thousand miles begins with one step.
Please take a moment and share your prayer requests and pray for others as well:  CLICK HERE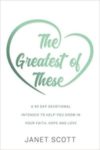 " SALE" for $9.95!
Ladies, I am so excited to share with you that my book is now available.  This would be great to buy and give to someone who is struggling or for your Ladies Group to go through together, or even for someone who doesn't know the Love of God yet.  CLICK HERE.  The new book is a 90-day devotional to help you grow in your understanding of His love which in turn will give you hope and grow your faith.  ALSO: PLEASE, if you have ordered the book would you please go to Amazon and leave a review?  Thank you so much for your support in spreading the word!