Ephesians 2:8  For by grace are you saved through faith; and that not of your selves:  it is the gift of God:
Do you think God ever looks down and thinks, 'hmmm, I should have asked more of them'?  I am sure He doesn't but doesn't it seem strange that we take His generosity for granted in some cases and in others we are still trying to work for His gift.
Have you ever read the book of Leviticus?  If you haven't take a moment and just randomly read a chapter there.  The details of how they were to prepare and sacrifice all of the different sacrifices are pretty overwhelming in order to be free from sin and guilt.  All we have to do to be forgiven is to ask Him for His forgiveness because He already took care of it on the cross.  People had to travel and they had to pay for their sacrifices either by raising it or finding someone to buy a perfect sacrifice from, we pray.  If sacrifices were not done right back then, people died, we safely pray.
God is so good to us and the reason I feel we take all of that for granted is that most Christians don't even read their Bibles.  If you ask for volunteers in the church, everyone is too busy except for that select handful that seems to do it all.  When God tells us to reach out to someone, we often feel it may get too messy or uncomfortable.  Wow, He asks so little of us and He loves us so much, yes….. I believe we are taking a lot for granted.  I believe our hearts should be so overwhelmed with gratitude for all He has done and is doing that we are looking for opportunities to serve Him and get to know Him better but it often seems as though we take His grace and see it as an open door to be busier because we don't feel we have any obligations, we have freedom in Christ.  
I am not suggesting by any means that we have to work for His grace what I am saying is that His grace ought to drive us to want to serve.  We have freedom in Christ but that is not a license to live any way we choose and once again it should draw us to love Him even more.
Please let me encourage you today to ask Him if you are missing anything.  Maybe you are the one who is always helping and serving and maybe the thing you are missing is taking time for someone to train to serve like you do or maybe it is time for a break so you can be poured into and refreshed.  Maybe you have been looking for something to do and you aren't sure where to start; if you aren't in God's Word every day I would encourage you to begin there and you can always call your pastor and ask Him where there is a need that you may be a good fit to fill – trust me he will be shocked and encouraged that he got the call.  Thank God for His grace and mercy today, if it doesn't totally make sense yet read that chapter in Leviticus and open yourself up to love Him with all your heart!
Quote:  "God grant me the serenity to accept the things I cannot change, the courage to change the things I can, and the wisdom to know the difference."  Reinhold Niebuhr
Please take a moment and share your prayer requests and pray for others as well:  CLICK HERE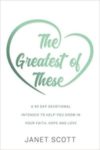 Ladies, I am so excited to share with you that my book is now available.  This would be great to buy and give to someone who is struggling or for your Ladies Group to go through together, or even for someone who doesn't know the Love of God yet.  CLICK HERE.  The new book is a 90-day devotional to help you grow in your understanding of His love which in turn will give you hope and grow your faith.  ALSO: PLEASE, if you have ordered the book would you please go to Amazon and leave a review?  Thank you so much for your support in spreading the word!