1 Chronicles 16:8  Oh give thanks to the Lord:  call upon his name; make known his deeds among the peoples!
As the holidays come rolling in this time of year the spirit of Thankfulness and Giving seems to just be in the air a little heavier than the rest of the year and it is wonderful!  We need to always have that in our hearts, but since this is the focus this time of year I feel led to ask; is there something God would have you do that would broaden your outreach for Him?
What is it that you are thankful for?  Is there someone you can share that with?  Has God blessed you in an are that you could bless someone else too?  Is there a way that you could bless someone else with God's goodness?  It may even just be a kind word, or maybe there's someone in a nearby nursing home who never gets any visitors that you could adopt and spend some time with.  Maybe God has blessed you financially and now would be the time to take a look at sponsoring a child through Compassion International (Bill and I have 4 and they are just such  blessing!  I love sending and receiving letters from them and it's only $38 a month!)  Maybe you could take one of the names off that little tree in your grocery store and make a difference in a local child's life!  Ask God to show you!
Maybe this time of year is really difficult because of the loss you have experienced, I totally understand that.  I am so sorry!  I know God sees your tears and your hurt and He loves you so much and He cares deeply.  I would encourage you to just allow Him to wrap His arms around you and carry you through this season.  He wants to be there for you so please don't push Him away.  Don't think that you have to be wonder woman or put up a front, allow yourself time to grieve and ask God to show you His love and grace as He carries you through!  Allow Him to bless you and care for you and that alone will be a way of making known His deeds to other people!
I love this time of year and I am sure that you probably do too, no matter where you are in life right now.  My prayer for you all is that God will show Himself mighty in your life through this season so others will see and be drawn to Him as a result!  The best is yet to come!
Quote:  "Do what you can with what you have, where you are."  Theodore Roosevelt
Please take a moment and share your prayer requests and pray for others as well:  CLICK HERE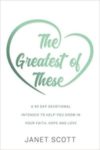 Ladies, I am so excited to share with you that my book is now available.  This would be great to buy and give to someone who is struggling or for your Ladies Group to go through together, or even for someone who doesn't know the Love of God yet.  CLICK HERE.  The new book is a 90-day devotional to help you grow in your understanding of His love which in turn will give you hope and grow your faith.  ALSO: PLEASE, if you have ordered the book would you please go to Amazon and leave a review?  Thank you so much for your support in spreading the word!