Psalm 121:1-2,  I lift up my eyes to the hills.  From where does my help come?  My help comes from the Lord, who made heaven and earth.
Could you use a little help today?  I really don't think there's ever a day when I don't need help on some level.  Unfortunately, there have been too many times over the years when I have sought help from other people or things instead of just leaving it with the Lord.  Uhm, yeaaah, don't do that!  Yes, more often than not God will use someone else or something to help you in your situation, but allow Him to guide you.  For example; don't get the idea that you need to get married in order to make it financially or to be fulfilled.  Thoughts like that will make you desperate and that is never a good place to be going into a relationship.  Allow God to be your everything and ask Him to help you grow in your relationship with Him so you can make healthy choices.  
When you need help, especially when you are in the middle of the storm there are a million questions that cross your mind if you are lacking faith:  I know God can, but will He ……. What if God doesn't do what I think needs to be done…… how can I possibly make it 1 more day……. You have to learn to trust Him!  Understand that He has a plan so if it doesn't work out the way you think it should, He still has a plan and He is still working on your situation, don't panic.  Take a deep breath and ask Him to fill you with His peace and direction.  Ask Him to guide you and help you see that He is moving on it.  It is ok to ask Him for a sign.  Ask Him for a verse to clarify that you are headed in the right direction and that He is by your side.  He wants a closer walk with you!  He wants you to know and experience His love.  Trust me, satan will do his best to discourage you by whispering lies to you to discourage you and hold you back, you will have to choose to reject those thoughts.  It is truly a battle!  Remember Ephesians 6:10-20!  You can't ignore the battle for your mind.
God wants to lead you into all He created you to be.  Write out Jeremiah 29:11-13 and carry it with you!  Hold on to the promises He has given you over the years.  Pull out those dreams you had and dust them off.  Ask Him to show you His dreams for your life and pursue Him with your whole heart and watch Him work!  It's not easy, nothing in life is really easy, but there's no one better to walk through it all with than our Lord and Savior, Jesus Christ.  He loves you so much and He cares about every single tear you have cried.  He cares about those struggles at work and in your home and in your finances.  Ask Him for His help today!  Pursue Him and His plan for your life, knowing that His best is yet to come!  Help is on the way!
Quote:  "Courage doesn't always roar.  Sometimes it's the quiet voice at the end of the day saying I will try again tomorrow." ~ Mac Anderson
Please take a moment and share your prayer requests and pray for others as well:  CLICK HERE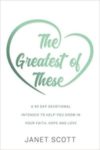 Ladies, I am so excited to share with you that my book is now available.  This would be great to buy and give to someone who is struggling or for your Ladies Group to go through together, or even for someone who doesn't know the Love of God yet.  CLICK HERE.  The new book is a 90-day devotional to help you grow in your understanding of His love which in turn will give you hope and grow your faith.  ALSO: PLEASE, if you have ordered the book would you please go to Amazon and leave a review?  Thank you so much for your support in spreading the word!