Mark 9:23-24. And Jesus said to him, "If you can! All things are possible for one who believes."  Immediately the father of the child cried out and said, "I believe, help my unbelief!"
Jesus was obviously getting a bit annoyed with the unbelief He was running into!  "If you can!"  It's like He was saying, "If you can, if you can!  Seriously?  Did you really just say, 'If you can' to me because all things are possible for one who believes!"
Not everyone realized back then that He was the Son of God, but you do and yet I bet there are still times you say, "if you can……", I know I have said things like that, maybe not verbally but deep down have had thoughts that what I was asking for was a 'stretch'.    I'm not suggesting praying for crazy things out of greed, I am saying that we need to have more faith to believe that He will do what He has said He would do and He will provide for you if you only believe!  God loves you so much!
Jesus ran into so many scenarios while He walked on earth:
There was the woman who had been ill for twelve years and in Mark 5: it says, "She had heard the reports about Jesus and came up behind him in the crowd and touched his garment.  For she said, "If I touch even his garments, I will be made well."  She had so much faith in Him that she believed He didn't have to acknowledge her and she could be healed.  ~ God sees you, how much can He do for you if you just believe Him for it!
Jesus disciples walked with Him every day and saw miracle after miracle.  They saw Him feed the 5,000 and yet when He told them to feed the next crowd, they were asking the same question, "Just how are we supposed to feed all of these people?"  Then when they were out in the boat and the storm came up and Jesus was sleeping, they freaked out again.  Mark 4:39-41, And he awoke and rebuked the wind and said to the sea, "Peace!  Be still!"  And the wind ceased and there was a great calm.  He said to them, "Why are you so afraid?  Have you still no faith?"  And they were filled with great fear and said to one another, "Who then is this, that even the wind and the sea obey him?"  They still didn't get it!  ~ What has He done or is He doing in your life to get you to recognize who He is and the power He can have in your life if you will just believe.
Matthew 13:57-58, And they took offense at him.  But Jesus said to them, "A prophet is not without honor except in his hometown and in his own household.  And he did not do many mighty works there, because of their unbelief.  Hmmmm….. let's think about that for a second; Jesus went to His hometown and you would think that watching Him grow up and growing up with Him would have been enough for all of them to believe in Him, but obviously not.  If you have accepted Christ as your Savior then you know that you have the Holy Spirit living within you (residing there) and yet you lack faith!  Ouch!  I would bet we could all confess to that at least once in a while.  ~ Why do we choose to believe Satan's lies over God's truth about our situation.  
Matthew 6:33, "But seek first the kingdom of God and his righteousness, and all these things will be added to you." Walk with God and trust Him to do what is right and best in your life.  Life is full of struggles and all of your answers are found in Him!  Learn to trust that if you knew what He knows about your situation, you would pray differently so that is why you have to trust that He sees the big picture and He will always do what is best for you if you just trust and believe in Him!  With God all things are possible!  
So, which one are you:
Are you the woman who believed that He didn't even have to see or speak to her and she would be healed?
Are you like His disciples ~ He has shown you over and over and yet you still aren't sure He will come through?
Are you like His friends and family who knew Him and had lived with Him and yet doubted the power He could have in their lives?
No matter where each of us is today we all need to be like that man who said, "I believe!  Help my unbelief!"
Philippians 1:6, "And I am sure of this, that he who began a good work in you will bring it to completion at the day of Jesus Christ."  The best is yet to come!
Quote For The Day:  "Faith believes in spite of the circumstances and acts in spite of the consequences."  Adrian Rogers
Please take a moment and share your prayer requests and pray for others as well:  CLICK HERE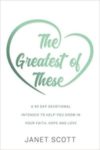 Ladies, I am so excited to share with you that my book is now available.  This would be great to buy and give to someone who is struggling or for your Ladies Group to go through together, or even for someone who doesn't know the Love of God yet.  CLICK HERE.  The new book is a 90-Day devotional to help you grow in your understanding of His love which in turn will give you hope and grow your faith.  ALSO: PLEASE, if you have ordered the book would you please go to Amazon and leave a review?  Thank you so much for your support in spreading the Word!