Jeremiah 29:11-13. "For I know the plans I have for you," declares the Lord, "plans to prosper you and not to harm you, plans to give you hope and a future.  Then you will call on me and come and pray to me, and I will listen to you.  You will seek me and find me when you seek me with all your heart."  
He has a plan.  Are you open to His plan for your life or are you pretty comfortable where you are?  Have you been waiting for Him to reveal His plan for your life and you are wondering if it will ever happen?  Are you so frustrated with everything that has come against you that you have begun to wonder if there really is a plan or if maybe all the "storms" of life are the plan?  Did you wake up one morning realizing that the life you are living is not the plan you know God has for you?
There's hope!  He still has a plan for you!  His desire for you to shine is still there and He wants to walk you through all that you are facing right on in to all that He has planned.  Sometimes there are storms that seem to rob us of almost everything, but if we allow Him to, He will grow us through the storm into something He can use on a greater level than we imagined.  Press in and seek Him with your whole heart.  In order to find Him and His plan you need to seek Him.  So often we want all that God has to offer, but we want to pick and choose what areas of our lives He can be present in.  It doesn't work that way.  God loves you and He wants a close relationship with you.  He doesn't want a tiny corner in your life, He wants all of it.  He wants to show you things you would never understand without Him.  
The world will tell you, "if it feels good do it", "you're number 1", "there are no absolutes"…… and the list goes on and on and all of the things the world has to say are directly opposing everything the Bible has to say.  It's pretty simple, if you want God's best you must follow God's plan and you will find His plan in His word!  Spend time getting to know Him.  Ask Him for His wisdom for everything you face.  The worlds way will just bring more heartaches and pain.  God wants you to fulfill the purpose He created you for.  
Don't give up on the plan that God has for you.  Don't get so caught up in the insignificant things and busy things of life that you miss out.  It is possible to get so caught up in "good things" but not the right things and we miss out on His best.  Just because something is good to do it doesn't mean it is right for you or your family right now.  Ask God to set your priorities.  Ask Him if everything you have going on is right for this season of your life.  Don't hesitate to tell people "no, it's just not the right time for that in my life right now".  Trust God!  Allow Him to guide you in all that you do, knowing that His best is yet to come!
Quote:  "You don't have to be great to start, but you have to start to be great."  ~ Joe Sabah
Please take a moment and share your prayer requests and pray for others as well:  CLICK HERE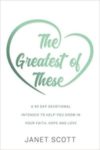 Ladies, I am so excited to share with you that my book is now available.  This would be great to buy and give to someone who is struggling or for your Ladies Group to go through together, or even for someone who doesn't know the Love of God yet.  CLICK HERE.  The new book is a 90-Day devotional to help you grow in your understanding of His love which in turn will give you hope and grow your faith.  ALSO: PLEASE, if you have ordered the book would you please go to Amazon and leave a review?  Thank you so much for your support in spreading the Word!