John 14:1  "Let not your hearts be troubled, Believe in God, believe also in me."
There's a lot going on in the world that is troubling and if you aren't careful it will consume you and can cause more fear than it should.  Jesus is very clear in this verse ~ "believe in God and believe in Him" and remember who it is you serve and who it is that knows better than anyone what lies down the road.  We don't really know what is coming, except for the fact that we know He is!  He loves you and He will take care of you and those you love!
I posted on Facebook yesterday that if there was ever a time to take your prayer life seriously it is now!  That is so true and we need to be on our knees pleading for God's protection and mercy!  I would like to add to that though and say; if there was ever a time to trust God and His character, it is now too!  If you allow fear to consume you then you will not be able to hear His voice and think clearly when you need to!  Do what you can and leave the rest to God!  Spend your time focusing on Him and His word, not what is going on around you!  It is always good to be fully aware and prepared, but your focus must remain on Him, not what "could happen".  Worry is a waste of your imagination!  We need to set our sites on God and pray.  Pray for His protection and His direction and He is faithful to His word!
Keep pressing forward!  Love Him with your whole heart!  Give your fears and concerns to Him, one day at a time and He will direct your paths just like it says in Proverbs 3:6, "In all your ways acknowledge Him, and He shall direct your paths."  He loves you ~ the best is yet to come!
Quote:  "Do what you can with what you have, where you are."  Theodore Roosevelt
Please take a moment and share your prayer requests and pray for others as well:  CLICK HERE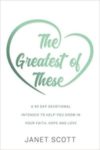 " SALE" for $9.95!
Ladies, I am so excited to share with you that my book is now available.  This would be great to buy and give to someone who is struggling or for your Ladies Group to go through together, or even for someone who doesn't know the Love of God yet.  CLICK HERE.  The new book is a 90-day devotional to help you grow in your understanding of His love which in turn will give you hope and grow your faith.  ALSO: PLEASE, if you have ordered the book would you please go to Amazon and leave a review?  Thank you so much for your support in spreading the word!
If you are looking for a way to make some extra money while you are stuck at home during quarantine, check out my website with Younique ~ click here.   
You can do everything online so you don't have to go anywhere which is perfect during this quarantine.  We have fantastic Skin Care and Makeup and it is only $99 to join my team.  It is part of "Beauty From the Inside Out" with Chocolate and God.  Let's become all we were created to be for Him!