Isaiah 61:1 The Spirit of the Lord God is upon me because the Lord has anointed me to bring good news to the poor; he has sent me to bind up the brokenhearted, to proclaim liberty to the captives, and the opening of the prison to those who are bound;
So often when we are brokenhearted we feel as though we need to toughen up and be strong.  Jesus came to heal your broken heart and He came to be strong for you!  You don't need to be tough and strong, you need to rest in Him.  Allow Him to heal your heart and to give you the strength to face the day!  Your strength needs to come from Him, not from your deciding to get tough.  I can remember after my divorce years ago, saying to myself…… no one will ever hurt me like that again!  I was determined to be tough and get through everything and to have a wall the size of Texas around me to protect me.  When we "toughen" up we tend to not only shut out other people but we tend to shut God out to a degree as well.  It isn't healthy!  Face your hurts, admit your hurt, and allow God to heal your hurt, don't get tough.  When the going gets tough…… we need to just turn to God!  
I love this verse because it clearly speaks of Jesus mission; He brought the good news for our salvation when He gave His life on the cross, He is the healer of our broken hearts and gives us true liberty by forgiving our sins and giving us victory over them!  John 8:31-36, So Jesus said to the Jews who had believed in Him, "If you abide in my word, you are truly my disciples, and you will know the truth, and the truth will set you free."  They answered him, "We are offspring of Abraham and have never been enslaved to anyone.  How is it that you say,' you will become free'?"  Jesus answered them, "Truly, truly, I say to you, everyone who commits sin is a slave to sin.  The slave does not remain in the house forever, the son remains forever.  So if the Son sets you free, you will be free indeed."  Jesus has the power over sin and death and He will free us from it all when we accept Him as our Savior!
Whatever you are facing today, let me remind you that you don't have to do it in your own strength.  Philippians 4:13, "I can do all things through him who strengthens me."  He will give you the strength to face what you need to face and He will mend your broken heart if you will just give it to Him!  The best is yet to come!
Quote:  "A journey of a thousand miles begins with one step."  Chinese Proverb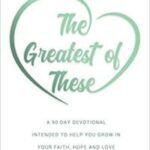 SALE" for $9.95!
Ladies, I am so excited to share with you that my book is now available temporarily at a discounted price.  This would be great to buy and give to someone who is struggling or for your Ladies Group to go through together, or even for someone who doesn't know the Love of God yet.  CLICK HERE.  The new book is a 90-day devotional to help you grow in your understanding of His love which in turn will give you hope and grow your faith.  ALSO: PLEASE, if you have ordered the book would you please go to Amazon and leave a review?  Thank you so much for your support in spreading the word!
If you are looking for a way to make some extra money check out my website with Younique ~ click here.   You can do everything online so you don't have to go anywhere which is perfect during this quarantine.  We have fantastic Skin Care and Makeup and it is only $99 to join my team.  It is part of "Beauty From the Inside Out" with Chocolate and God.  Let's become all we were created to be for Him!