Luke 2: 8-20  And in the same region there were shepherds out in the field, keeping watch over their flock by night.  And an angel of the Lord appeared to them, and the glory of the Lord shone around them, and they were filled with fear.  And the angel said to them, "Fear not, for behold, I bring you good news of great joy that will be for all the people.  For unto you is born this day in the city of David a Savior, who is Christ the Lord.  And this will be a sign for you:  you will find a baby wrapped in swaddling cloths and lying in a manger."  And suddenly there was with the angel a multitude of the heavenly host praising God and saying, "Glory to God in the highest, and on earth peace among those with whom he is pleased!"  When the angels went away from them into heaven, the shepherds said to one another, "Let us go over to Bethlehem and see this thing that has happened, which the Lord has made known to us."  And they went with haste and found Mary and Joseph, and the baby lying in a manger.  And when they saw it, they made known the saying that had been told them concerning this child.  And all who heard it wondered at what the shepherds told them, but Mary treasured up all those things, pondering them in her heart.  And the shepherds returned, glorifying and praising God for all they had heard and seen, as it had been told them.
So, why the shepherds?  Why didn't God send the angels to town instead?  Why didn't he let the people of Bethlehem know that the Savior had been born instead of the Shepherds?  There could be multitudes of reasons, but I fully believe that He wanted everyone to understand the full meaning of the words, "I bring you good news of great joy that will be for ALL the people!"  He didn't send His angels to tell the upper class, He started with those shepherds who were just out in the fields doing their jobs.  I have never seen anything that would tell us that being a shepherd was a job that was highly sought after.  It was a job that needed to be done and God sought them out first.  ( Side note:  These were also, not just any "shepherd" they were Levitical shepherds who were caring for the sheep that were used for sacrifices.  I found it interesting to learn too that when a lamb was born the Levitical shepherds did everything they could to keep it from being "blemished" so it could be used for sacrifice so when it was first born they would wrap it in swaddling cloths and lay it in a bed of hay or manger.  God is in the details!)
Still today, God is looking for those who will hear and go and do!  It doesn't matter how much money you have or don't have!  He is looking for those whose "yes" is on the table!  He isn't looking at what you have done in the past, if you have confessed it to God and you are following His lead in all you are doing, He will cover you like a flood with His power and love and direction for your life if you will just open your heart up to Him and follow His lead!  God wants to open up the flood gates and show Himself mighty in your life!  What exactly does that look like?  Only God knows all that He has in store for you, but He wants you to be open to His leading for your life!  Just like those shepherds, you may find yourself just "doing your job" one minute and in awe of Him and all that He is doing the next!  Don't look at what is going on around you, look for Him and ask Him to reveal all that He has planned and all that He is doing in preparation for His plans. Maybe you have looked around and have seen God doing things through other people and somehow you have felt left out, like maybe you aren't "special" or somehow He doesn't have any great plans to use you…… those are lies straight from Hell and satan would like nothing better than for you to believe that to keep you from all that God has in store for you!  Don't buy it!  If you need the reminder, print off a BIG "YES" and put it on your kitchen table to remind you!  He loves you and wants to use the abilities He has put within you to bring glory to His name!  There are no insignificant people in God's plans!  He has a purpose for you and for your life so open yourself up to all that He has planned for you!
Are you open today to His leading?  Do you somehow feel unworthy or lost on the path you are on?  Are you discouraged and overwhelmed with all you are facing?  Put your "yes" on that table and trust Him to do all He has promised!  Truly the best is yet to come!  
Quote:  "Whether you think you can, or think you can't…… you are right!"  ~ Henry Ford
Please take a moment and share your prayer requests and pray for others as well:  CLICK HERE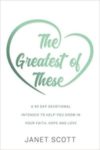 Ladies, I am so excited to share with you that my book is now available.  This would be great to buy and give to someone who is struggling or for your Ladies Group to go through together, or even for someone who doesn't know the Love of God yet.  CLICK HERE.  The new book is a 90-day devotional to help you grow in your understanding of His love which in turn will give you hope and grow your faith.  ALSO: PLEASE, if you have ordered the book would you please go to Amazon and leave a review?  Thank you so much for your support in spreading the word!