Psalm 118:5-6  I called on the Lord in distress; The Lord answered me and set me in a broad place.  The Lord is on my side; I will not fear.  What can man do to me?
Are you living in fear?  Is there something you are facing but fear has kept you paralyzed and you just haven't moved on it yet?  Stop for a moment and ask yourself what you really have to fear?  What can they do to you if you have God on your side and you are following His will?  If it is a leap of faith you are fearing to ask yourself where you think God will provide best for you and your family; where you are or where He has called you to?  Don't allow fear and "comfort" keep you from what you need to do.
If you are 'distressed' in your situation tell Him about it, that 'broad place' He has for you may be right in front of you and you just can't see it because of the stress you are under.  God wants you to live a life that shows His power and love, not one of stress and fear so talk to Him about it.  I have been in those places where it is difficult to even look up to see what God has to say because of the heaviness of the situation but He will still hear you even if your head is hung low and you feel you don't have the strength to move.  He will lift you up and carry you through if need be, but you have nothing to fear except fear causing you to miss all that God has for you if you allow it to.  God is faithful, always faithful and He will see you through this!
As it says in Psalm 121:1-2 "I lift up my eyes to the hills.  From where does my help come?  My help comes from the Lord, who made heaven and earth."
Your help is always found in Him and He will answer, don't give up now.  It may seem long but what will you gain by giving up?  Seriously, is there any gain by throwing in the towel today?  I didn't think so.  Do as David did in 1 Samuel 30:6 "And David was greatly distressed, for the people spoke of stoning him, because all the people were bitter in soul, each for his sons and daughters.  But David strengthened himself in the Lord his God."  I am not trying to make light of anyone's situation here and some of you may be in dangerous situations, but I do want you to understand that David was facing death and found His encouragement in the Lord and when he did,  that is when He found the answers God had for him and his situation.  Your answers are not found in your cruddy circumstances, they are found in your hope in God!
Take the time today to pray and seek God for what you are facing and ask Him to encourage you along your way so you can show His power and love in all that you are doing and all that you are facing.  Know that He is on your side today and that you have nothing to fear, He will come through and truly the best is yet to come!
Quote:  "Courage doesn't always roar.  Sometimes it is the quiet voice at the end of the day saying, "I will try again tomorrow." ~ Mac Anderson
Please take a moment and share your prayer requests and pray for others as well:  CLICK HERE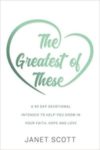 Ladies, I am so excited to share with you that my book is now available.  This would be great to buy and give to someone who is struggling or for your Ladies Group to go through together, or even for someone who doesn't know the Love of God yet.  CLICK HERE.  The new book is a 90-day devotional to help you grow in your understanding of His love which in turn will give you hope and grow your faith.  ALSO: PLEASE, if you have ordered the book would you please go to Amazon and leave a review?  Thank you so much for your support in spreading the word!