Psalm 100:3  Know ye that the Lord he is God:  it is he that hath made us, and not we ourselves; we are his people and the sheep of his pasture.
We need to know!  We need to know deep within our hearts that the Lord is God!  That may sound simple and strange to say, but how much more faith would we have in our every day lives if we would really dig in and fully grasp that the Lord that we pray to is God of all.  We often take it all for granted and so lightly that we forget who we are talking to when we pray and we forget in our struggle that He can handle whatever may come our way!  He is God!  He is Lord of All!  Nothing is too difficult for Him, He made it all!  
If you are hurting today, your heart is wounded or grieving ~ Know that the God of all, the Lord, He is God and He cares and will mend your heart.  If you are lonely ~ know that the Lord, He is God and He is right by your side, He can fill your heart with joy and can bring people into your life to fill the void again.  If you are struggling in your finances or your marriage ~ know that the Lord, He is God and nothing is too difficult for Him if you follow Him, He will show you the way and He will provide for you!  No matter what it is that you need today ~ know that the Lord, He is God and He is working on your situation and in your life and He cares more deeply than you can possibly fathom!  He loves you!
No matter what may come your way today, no matter what thoughts cross your mind, keep reminding yourself "the Lord, He is God" and He cares and He will see me through to the other side of all of this!  The best is yet to come!
Quote:   "Do what you can with what you have, where you are!"  Theodore Roosevelt
Please take a moment and share your prayer requests and pray for others as well:  CLICK HERE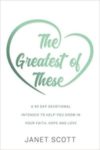 Ladies, I am so excited to share with you that my book is now available.  This would be great to buy and give to someone who is struggling or for your Ladies Group to go through together, or even for someone who doesn't know the Love of God yet.  CLICK HERE.  The new book is a 90-day devotional to help you grow in your understanding of His love which in turn will give you hope and grow your faith.  ALSO: PLEASE, if you have ordered the book would you please go to Amazon and leave a review?  Thank you so much for your support in spreading the word!