Titus 2: 11-14  For the grace of God has appeared that offers salvation to all people.  It teaches us to say "No" to ungodliness and worldly passions, and to live self-controlled, upright and godly lives in this present age, while we wait for the blessed hope ~ the appearing of the glory of our great God and Savior, Jesus Christ, who gave himself for us to redeem us from all wickedness and to purify for himself a people that are his very own, eager to do what is good.
How closely are you walking with Him?  Are you striving to be like Him or are you more concerned about fitting in?  Please hear me out!  If you want God's best then don't settle for the world's standard for how you live!  God loves you and wants what is best for you, it's time for you to make that decision for you and your family!  This is not a message to condemn, it is a message of God's love and His willingness to live in you to show you a better way for you and your family!  It is His desire for you to live above what the world is trying to drag you down into because He knows the heartache it will cause you and your family!  He wants to show you a better way!
The Bible teaches us to say no to ungodliness and the Holy Spirit that lives within us after we accept Him as our Savior, gives us the ability to live that out!  Too many Christians have become complacent to the ungodliness the world is running rampant in.  You aren't called to run around beating people over the head with a Bible telling them that they need to change, you are called to be the difference!  People are looking for something different!  Something real to believe in!  So while Christians are looking to somehow "fit in" the world is looking for something real!  They aren't looking for pious Christians, they are looking for someone who is truly walking with God and allowing His love to flow through them, pouring out on everyone they come in contact with.  Are you willing to be that person?
I have heard women complain about their husbands being addicted to pornography and yet they were the ones dragging them to terrible sex-filled movies that they thought were romantic.  Any movie that portrays a woman as only being as valuable as she is sexy isn't worth watching!  Any movie or tv show that has nude people in it is certainly not something a godly person should be watching!  God wants to give you the oomph to make the change in your home!  He wants to guide you into being all He created you to be so you can change your world.  There are people dying around us every day who don't realize that there is hope!  There is a better way!  God loves them!  Will you choose today to make the changes in your life that God is putting on your heart?  Will you say "yes" to Him and "no" to ungodly things?  Will you let go of the death grip you have on those movies, tv shows, books and maybe places that you are so attached to in order to live the life God has for you?  Are you willing to trust Him, that His way is so much better?  I would like to encourage you to give it all to Him and allow Him to guide you today knowing that then you can count on the fact that for you, His best is yet to come!  
Quote:  "Men are anxious to improve their circumstances, but are unwilling to improve themselves; they, therefore, remain bound."  ~ James Allen, 'As a Man Thinketh'
Please take a moment and share your prayer requests and pray for others as well:  CLICK HERE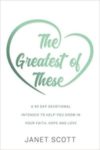 Ladies, I am so excited to share with you that my book is now available.  This would be great to buy and give to someone who is struggling or for your Ladies Group to go through together, or even for someone who doesn't know the Love of God yet.  CLICK HERE.  The new book is a 90-day devotional to help you grow in your understanding of His love which in turn will give you hope and grow your faith.  ALSO: PLEASE, if you have ordered the book would you please go to Amazon and leave a review?  Thank you so much for your support in spreading the word!