Acts 17:27-28  that they should seek God, and perhaps feel their way toward Him and find Him. Yet He is actually not far from each one of us, for "In Him, we live and move and have our being;" as even some of your own poets have said, "For we are indeed His offspring."
Are you feeling all alone in your situation today?  Maybe you are waiting and you've reached a point where you feel as though you are waiting alone for your prayers to be answered.  Maybe you have been called to do something different or new and you feel as though God has thrown you out into the wilderness and you are all alone in your situation even though you know you are in His will.
Whatever the case may be today, no matter what you may be feeling you need to know that "God is not far from you – it is in Him that you live and move and have your being!"  He loves you and He didn't put you here to face this alone!  He is right by your side, it is your choice to lock your arm in His or not.  Do you really think He would leave you out here alone?  You are His child and He loves you and He has a plan for all that you face today.  A plan to make you stronger, a plan to give you hope, a plan to make your future something you cannot even possibly imagine today, a plan that will help draw others to Him!
Maybe the issue this morning is that your focus is on what you are facing.  Are you so focused on you today and what you are waiting on or struggling with that you have lost your God focus?  Ouch!  I can't even say how many times I have done that and there I sit, wallowing in my own self-pity as God patiently stands there waiting beside me saying, "seriously, let's get moving so you can get past this because I have a better plan for you than your own self-pity!"  Pull yourself together today and ask God to fill you with His comfort, strength, and encouragement!  Ask Him to help you to know inside your heart that this is only for a season and truly His best for your life is yet to come, you just need to trust Him!
God loves you and wants His best for you, so hold onto these verses knowing that God is not far from you. He loves you and is working out His plan, it may hurt right now, maybe you need to take the time and sit down for 10 min and just have a good cry! There's nothing wrong with having a moment to cry but take that time to pour your heart out to God and ask Him to fill you with His peace, His love, and His motivation to get this done so you can move forward.  Maybe you just need to turn on some praise music while you do what He has asked you to do today.  He wants to reassure you and give you peace.  He wants to show Himself mighty and loving in your situation so others will see Him and be drawn to Him.
Let me encourage you today to open your heart up to all that He has in store for you!  Today is just one more day on the path to all He has in store for you!  Trust Him!  He knows what is best, allow Him to heal your heart and guide you.  He is closer to you than your feelings are telling you He is – don't trust your feelings, trust God!
Quote:  "I am grateful for all of my problems.  After each one was overcome, I became strong3er and more able to mee those that were still to come.  I grew in all my difficulties."  ~ J.C. Penny
Please take a moment and share your prayer requests and pray for others as well:  CLICK HERE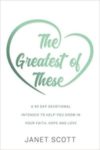 Ladies, I am so excited to share with you that my book is now available.  This would be great to buy and give to someone who is struggling or for your Ladies Group to go through together, or even for someone who doesn't know the Love of God yet.  CLICK HERE.  The new book is a 90-day devotional to help you grow in your understanding of His love which in turn will give you hope and grow your faith.  ALSO: PLEASE, if you have ordered the book would you please go to Amazon and leave a review?  Thank you so much for your support in spreading the word!