Hebrews 4:12.  For the word of God is living and powerful, and sharper than any two-edged sword, piercing even to the division of soul and spirit, and of joints and marrow, and is a discerner of the thoughts and intents of the heart.
God's word is intended to reveal to us more about ourselves so we can become more like Him.  The more time we spend in God's word the more He can show us the sin in our hearts and lives that need to be cut out and replaced with His character.  One of the mistakes we often make is thinking that God's word is for us to hear for others so we can point out to them what is wrong with them.  We have all had a time when we were sitting in church and have thought, "I wish 'so and so' were here because they really need this message."  Hmmmmmm what did we miss for ourselves while we were figuring out how to fix someone else with the Word of God.
God's Word is also intended to build us up and give us the strength to face all that we have to face in this world.  He has told us over and over it will not be easy while we are here but He will give us the strength to do what is right and the grace to make it through.    It is armor for us to be able to stand against Satan's attacks (Ephesians 6:10-12)  We are able to be better equipped to face the day if we are in His word.
God's Word gives us grace and comfort to heal our wounded hearts and the losses that come our way.  It reveals His love to us so we can truly rest in Him and lean on Him.
God's Word shows us His mercy because we are all sinners and yet He loved us enough to send His son to die for our sins (John 3:16)
There is so much that God's word will do if we apply it and if we are spending the time in His word that He has directed us to spend.  Joshua 1:8 says, "This Book of the Law shall not depart from your mouth but you shall meditate on it day and night, so that you may be careful to do according to all that is written in it.  For then you will make your way prosperous, and then you will have good success."  If we want true victory in our lives it only makes sense to spend more time in His Word.  We need to find our direction in Him.
Quote:  "Even if you are on the right track you will get run over if you just sit there."  ~ Will Rogers
Please take a moment and share your prayer requests and pray for others as well:  CLICK HERE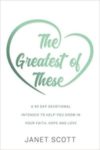 Ladies, I am so excited to share with you that my book is now available.  This would be great to buy and give to someone who is struggling or for your Ladies Group to go through together, or even for someone who doesn't know the Love of God yet.  CLICK HERE.  The new book is a 90-Day devotional to help you grow in your understanding of His love which in turn will give you hope and grow your faith.