Psalm 120:1  In my distress I called to the Lord, and he answered me.
Are you stressed out, frustrated, tired of waiting, feeling as though you are drowning, wondering where God is, and on the verge of just throwing in the towel and giving up?  Maybe you are feeling just one of those things and haven't quite gotten to all the rest.  Wherever you are, God is there!  He does care and He will hear your cries for help and He will deliver you!  
This verse is for you today:  For I know the plans I have for you, declares the Lord, plans for good and not for evil, to give you a future and a hope.  Jeremiah 29:11  Tell Him about it today!  Tell Him how frustrated you are!  Pour your heart out to Him and expect Him to answer you and deliver you!  You cannot base God's presence on your feelings, don't buy satan's lies today!
No matter what it is you are facing, your hope will always be found in Him, so don't give up!  Psalm 42:11 says, "Why are you cast down, O my soul, and why are you in turmoil within me?  Hope in God; for I shall again praise him, my salvation, and my God."  Know that "this too shall pass"!  It didn't come to stay ~ it came to pass!  This situation you are facing will not last forever as hard as that may seem to grasp right now in the heat of it all!  God loves you and He will carry you through.  
I know some of you face dangerous situations as well as frustrating, please let me encourage you to listen for His quiet voice and allow Him to move and guide you.  As you do that, keep this verse close Psalm 91:4, "He will cover you with His pinions, and under His wings, you will find refuge; His faithfulness is a shield and buckler."  He is always right there with you!
My prayer today is that whatever you may be facing, that God will show Himself mighty in your life!  I am also praying that you will seek Him with your whole heart and that you will have the strength to hold on!  One last verse to close with, Isaiah 40:31, "but they who wait for the Lord shall renew their strength; they shall mount up with wings like eagles; they shall run and not be weary; they shall walk and not faint."  The best is yet to come!
Quote:  "Faith believes in spite of the circumstances and acts in spite of the consequences."  Adrian Rogers
Please take a moment and share your prayer requests and pray for others as well:  CLICK HERE
If you are looking for a way to make some extra money check out my website with Younique ~ click here.   You can do everything online so you don't have to go anywhere which is perfect during this quarantine.  We have fantastic Skin Care and Makeup and it is only $99 to join my team.  It is part of "Beauty From the Inside Out" with Chocolate and God.  Let's become all we were created to be for Him!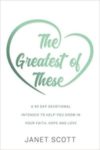 SALE" for $9.95!
Ladies, I am so excited to share with you that my book is now available.  This would be great to buy and give to someone who is struggling or for your Ladies Group to go through together, or even for someone who doesn't know the Love of God yet.  CLICK HERE.  The new book is a 90-day devotional to help you grow in your understanding of His love which in turn will give you hope and grow your faith.  ALSO: PLEASE, if you have ordered the book would you please go to Amazon and leave a review?  Thank you so much for your support in spreading the word!