1 Corinthians 13: 1-3  Though I speak with the tongues of men and of angels, but have not love, I have become sounding brass or a clanging cymbal.  And though I have the gift of prophecy, and understand all mysteries and all knowledge, and though I have all faith, so that I could remove mountains, but have not love, I am nothing.  And though I bestow all my goods to feed the poor, and though I give my body to be burned, but have not love, it profits me nothing.
How much do you love?  More than anything else God wants us to be loving and godly women.  We need to learn to be genuine in our love for others.  There's nothing worse than knowing that someone is just acting in their kindness.  No one wants a "fake" relationship with someone just for the sake of having one. These verses are pretty clear that if you are not doing these things in love then they really don't matter.  This is not a "fake it till you make it program". 
Ladies, we need to be real in our love for others!  If that is something that seems difficult then just ask the Holy Spirit to fill you with His love for others.  People are hurting all around us and sometimes they just need to see your smile, other times they may need a hug.  If you know someone that is hurting, maybe you could just take them for coffee and let them just pour their heart out or maybe they would just like to sit and have a casual conversation for a few minutes to get away from all that they are facing!  If you are pressed for time, pay it forward at the drive-thru by paying for the person behind you or pay for that single Mom's gas at the pump.There are so many ways we can reach out in love to others.  Look for someone today.  Take the time to just do it!  Do something to show the love of Christ, something to make someone feel special and loved today!  The rewards of reaching out and showing the love of Christ is so incredibly rewarding.  Be genuine with those around you.  Allow God to love through you and see the difference it makes in your world!
Quote:  "All that we love deeply becomes a part of us."  Helen Keller
Please take a moment and share your prayer requests and pray for others as well:  CLICK HERE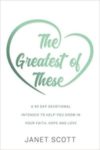 Ladies, I am so excited to share with you that my book is now available.  This would be great to buy and give to someone who is struggling or for your Ladies Group to go through together, or even for someone who doesn't know the Love of God yet.  CLICK HERE.  The new book is a 90-day devotional to help you grow in your understanding of His love which in turn will give you hope and grow your faith.  ALSO: PLEASE, if you have ordered the book would you please go to Amazon and leave a review?  Thank you so much for your support in spreading the word!