Isaiah 64:8 Yet you, Lord, are our Father.  We are the clay, you are the potter; we are all the work of your hand.
It's time to let your relatives off the potter's wheel because you are not the potter!  The only person you can truly change is yourself.  All the fit throwing and begging, pleading and demanding will not change anyone.  It is time we focused on ourselves and what we need to change, not what others need to change.
Do you ever sit in church and pick out every little thing the preacher says that would be good for someone else in your life?  Have you ever found that by the time the service was over you had a tidbit for everyone in your life except for yourself?  It is time for each of us to be sure that we are asking God in every situation to show us how we can grow or what He may have for us in the message.  Allow God to work in others by getting out of His way!  Sometimes we are so busy trying to fix everyone around us that they can't see what God is trying to do in their lives.  
God is the potter and He knows what it will take to change any of us.  The best prayer we can pray on a daily basis is, "Lord change me!"  If we allow God to work in our own lives and allow Him to work on others without our help, He can accomplish a lot more, a lot faster than He can if we have our hands in it!  I have a couple of rooms that need to be painted and as much as I would love for my grandchildren to enjoy helping on this project I know that not only will it be done faster to have an adult do it, it will also be less messy!  That is how God looks at working on others' lives; He would love for you to be able to enjoy doing it but He knows it will be a lot less messy if He does.  The best help you can give others in your life is for you to become all you can be and back off in their lives by allowing God to work on them Himself.
Quote:  "We can't choose our relatives, but we can choose our thoughts ~ which influence us much more."  www.simpletruths.com ~ Mac Anderson
Please take a moment and share your prayer requests and pray for others as well:  CLICK HERE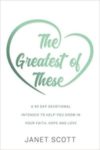 Ladies, I am so excited to share with you that my book is now available.  This would be great to buy and give to someone who is struggling or for your Ladies Group to go through together, or even for someone who doesn't know the Love of God yet.  CLICK HERE.  The new book is a 90-day devotional to help you grow in your understanding of His love which in turn will give you hope and grow your faith.  ALSO: PLEASE, if you have ordered the book would you please go to Amazon and leave a review?  Thank you so much for your support in spreading the word!