2 Corinthians 12:9. But he said to me, "My grace is sufficient for you, for My strength is made perfect in weakness,"  Therefore I will boast all the more gladly of my weaknesses, so that the power of Christ may rest upon me.
Are you feeling weak, or worn, or maybe heartbroken, or totally unqualified today?  Are you not really sure how you are going to make it?  God has promised to fill that need, mend that broken heart and He will give you the wisdom and strength you need to do what you are called to do.
Here's the only catch with all of this though; you have to trust Him and you have to allow His grace to be sufficient.  I don't know about you but I know there are too many times that I look around and I know God has poured out His grace for me to handle the situation and yet I feel an overwhelming need to be heard and get a backup of "people" to hold me up instead of just resting in Him.  I'm not saying we shouldn't talk to people about what we are going through but they shouldn't be our source of strength.  I have even had times when God removed my "backup" so I would fully lean on Him for His wisdom and strength!  There's no strength like the strength we get when we fully rely on God to sustain us.  
God loves you and He wants you to lean on Him.  He wants to see you make it to the other side of what you are facing and He wants to see you do it right.  No one else can be there for you the way only He can, no one else can give you the strength you need.  He is your knight in shining armor and He will provide.  Rest in Him, know He cares and He has your back.  Ladies, there is no love on earth that is like the love of God and no one can fill your needs as He can.  If you trust Him to fill your emotional needs then anyone else that comes along to add to that will just be the icing on the cake, (hmmm why do we say that most people think the icing is the best part, that doesn't fit here) mmmm how about the peanut butter on the Chocolate.  
Anyhow, look to Him today for all you need, don't run to someone else hoping they can fill that void, God's grace is sufficient.  Think about who you are in Christ and walk in the confidence of all that He created you to be!  He made you special girl so walk in that.  Thrive in His strength today!
Quote:  "Courage does not always roar, sometimes it is that quiet voice at the end of the day saying, 'I will try again tomorrow'"  ~ Simple Truths (www.simpletruths.com)
Please take a moment and share your prayer requests and pray for others as well:  CLICK HERE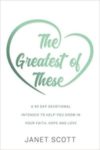 " SALE" for $9.95!
Ladies, I am so excited to share with you that my book is now available.  This would be great to buy and give to someone who is struggling or for your Ladies Group to go through together, or even for someone who doesn't know the Love of God yet.  CLICK HERE.  The new book is a 90-day devotional to help you grow in your understanding of His love which in turn will give you hope and grow your faith.  ALSO: PLEASE, if you have ordered the book would you please go to Amazon and leave a review?  Thank you so much for your support in spreading the word!
If you are looking for a way to make some extra money while you are stuck at home during quarantine, check out my website with Younique ~ click here.   
You can do everything online so you don't have to go anywhere which is perfect during this quarantine.  We have fantastic Skin Care and Makeup and it is only $99 to join my team.  It is part of "Beauty From the Inside Out" with Chocolate and God.  Let's become all we were created to be for Him!