Matthew 5:14,16. "You are the light of the world.  A city set on a hill cannot be hidden.  In the same way, let your light shine before others, so that they may see your good works and give glory to your Father who is in heaven.
Are you letting your light shine or are you busy trying to make sure that you are being "tolerant" and politically correct?  These days it seems easier to offend someone than it ever has been and frankly speaking, that is ridiculous!  Don't get me wrong, we need to be gracious in the way we speak and behave, and we need to be loving and kind, not looking for political fights or judging and condemning people!  So, how can we let our lights shine the way Jesus would?  How can we be the type of women who shine in the darkness of this world to the degree that when the light is seen it gives glory to God?
First of all, we need to make sure that it is Him we want to be seen, not ourselves.  If your heart is set on bringing glory to God and living a life that is pleasing to Him, your light will shine.  The more we seek Him, the more we love Him and want to honor Him, the more others will see Him in us!  
You don't have to run around being obnoxious, pointing out every little thing that someone else is doing wrong!  You don't have to put on an act of being a pharisee of Pharisees!  You don't need to shun people who aren't living the way God says they should live.  You aren't called to hate people, you are called to hate the sin that destroys their lives!  You don't need to take up every political cause out there just to please other people ~ just love people, as Jesus would.
If we live lives that are devoted to Him and we ask Him to give us His love for others, our lights will shine!  If we can truly get ahold of His love for other people, we will automatically love them right! We will speak with true graciousness! We will want what is best for them and what we say and do for them will be right!  We need to love people where they are and pray that our lives will draw them to victory they can find in Him!  Let your life be your light that reflects God's glory!
My challenge for each of us today is to ask God to show us what we can change to be more like Him!  And, pray for God to work in our hearts to have His love for people!  We need to pray that He will give us clean hearts and a right Spirit so we can be all we are created to be in Christ Jesus!
Quote:  "Graciousness is more than good manners.  It is more than courtesy.  It is the etiquette of the soul.  True graciousness has such a divine quality we feel it is something that comes through us, not from us."  ~ Fred Smith
Please take a moment and share your prayer requests and pray for others as well:  CLICK HERE
If you are looking for a way to make some extra money while you are stuck at home during quarantine, check out my website with Younique ~ click here.   
You can do everything online so you don't have to go anywhere which is perfect during this quarantine.  We have fantastic Skin Care and Makeup and it is only $99 to join my team.  It is part of "Beauty From the Inside Out" with Chocolate and God.  Let's become all we were created to be for Him!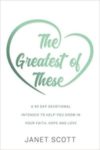 " SALE" for $9.95!
Ladies, I am so excited to share with you that my book is now available.  This would be great to buy and give to someone who is struggling or for your Ladies Group to go through together, or even for someone who doesn't know the Love of God yet.  CLICK HERE.  The new book is a 90-day devotional to help you grow in your understanding of His love which in turn will give you hope and grow your faith.  ALSO: PLEASE, if you have ordered the book would you please go to Amazon and leave a review?  Thank you so much for your support in spreading the word!