Psalm 68:4-5. Sing to God, sing praises to his name; lift up a song to him who rides through the deserts; his name is the Lord; exult before him!  Father of the fatherless and protector of widows is God in his holy habitation.
Praise God for who He is!  Take the time to fully worship Him and praise Him for all He has done and all He is about to do!  God deserves our praise and we should be spending time praising Him every day!  Today is Sunday here in the U.S. and you can find enough online services that you could spend all day watching them if you chose to, but my point is that there's no excuse to miss out on worshipping Him today.  You can worship wherever you are and whether you are ill or don't feel like getting out of your PJs.  You can find a service to join.
No matter where you are in life right now or what you are or are not facing now is a great time to praise God!  You will find that when you spend time praising God your faith will grow!  As you remind yourself of what a mighty God we serve you can't help but grow in the confidence that He's got whatever you are willing to hand over to Him and He has a plan.  Praising God through your storms in life will not only grow your faith but it will also grow the faith of those around you.  Stand up and say, "Not today, satan!  You will not still my praise or rob me of my joy!"  Spit in satan's face today by praising God!
Praise Him and seek His face!  Spend time honoring Him with what you watch or read and ask Him to help you glorify Him in all that you do.  Let's make today where we move Heaven and Earth with our praise to the one and only God of all creation.  Let's make it a day of prayer and focusing on Him.  Let's seek His face and ask Him to mold us into all that He created us to be so we can serve Him.  
Honor Him today with your praise.  Maybe now would be a great time to change how you do your Sundays.  If you need some suggestions for some great praise music just click on the links below:
"I Speak Jesus" by Here Be Lions
"Praise You In This Storm". By Casting Crowns
"God of All My Days" by Casting Crowns
Quote:  "A bird does not sing because it has an answer.  It sings because it has a song."  ~ Chinese Proverb
Please take a moment and share your prayer requests and pray for others as well:  CLICK HERE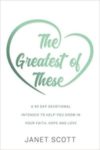 "QUARANTINE SALE" for $9.95!
Ladies, I am so excited to share with you that my book is now available.  This would be great to buy and give to someone who is struggling or for your Ladies Group to go through together, or even for someone who doesn't know the Love of God yet.  CLICK HERE.  The new book is a 90-day devotional to help you grow in your understanding of His love which in turn will give you hope and grow your faith.  ALSO: PLEASE, if you have ordered the book would you please go to Amazon and leave a review?  Thank you so much for your support in spreading the word