2 Timothy 1:7  For God has not given us a spirit of fear, but of power and of love and of a sound mind.
Isaiah 26:3. Thou will keep him in perfect peace, whose mind is stayed on thee:  because he trusted in thee.
You can have peace and confidence through it all!  God does not want you to be quaking with fear or losing sleep over all of the "what ifs" during this quarantine.  He wants you to take every concern and problem you have to Him.  He wants to hear it all!  God cares about every detail of your life and that hasn't changed because of a virus!
None of this caught God by surprise and He will provide and He will get us through to the other side.  Our focus needs to be on Him.  We need to be asking Him what He would like us to do and how we can best serve Him through this.  How can we show the love of God to others right now?  If you need help, don't hesitate to let someone in your church know.  Dig deeper into His Word and grow in your walk with Him!  Don't binge-watch tv spend time with God, and your family.  Do some of those projects around the house you have been wanting to do.  Read some great books.  Start a list of people to pray for!  Take the time to change your eating habits to a more healthful diet.  Start exercising.  Don't get down and depressed about being home use this time!
God will use this time for His glory if we as Christians do our part.  We need to spend more time in prayer for our nations!  We need to take this time to seriously develop our prayer life.  We need to ask Him what His plans and dreams are not only for our personal lives but for our nations.  What is our part?  What would He like us to do?  How can He shine through us while the world is in despair?  Let's make sure we are doing our part to be His light.  
God loves you more than words can say.  Don't miss out on the time you have been given to get to know Him more by spending more time with Him!  Trust Him, truly His best is yet to come, so take this time to get ready!
Quote:  "It's not where you start ~ it's where you finish that counts."  ~ Zig Ziglar
Please take a moment and share your prayer requests and pray for others as well:  CLICK HERE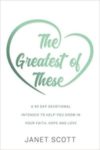 WATCH FOR MY "QUARANTINE SALE"!
Ladies, I am so excited to share with you that my book is now available.  This would be great to buy and give to someone who is struggling or for your Ladies Group to go through together, or even for someone who doesn't know the Love of God yet.  CLICK HERE.  The new book is a 90-day devotional to help you grow in your understanding of His love which in turn will give you hope and grow your faith.  ALSO: PLEASE, if you have ordered the book would you please go to Amazon and leave a review?  Thank you so much for your support in spreading the word!