Jeremiah 32:17 "Ah, Lord God!  It is you who have made the heavens and the earth by your great power and by your outstretched arm!  Nothing is too hard for you."
I don't know about you, but that verse gets me excited and fills me with hope for all that I have to face today and tomorrow and the next day…..  Whatever you may be dealing with you can know that nothing is too hard for God!  The God of all creation cares about you!  He loves you!  He sees you!  He knows you by your name!  He knows more about you than you do yourself and He cares about every single detail of what is going on in your life.
It doesn't matter whether or not you got yourself into the situation or not, He can deliver you if you will just seek Him!  No matter how difficult the road ahead may seem, you can know that He will see you through if you will trust in Him!  He loves you, you are the work of His hands!  He wants His best for your life and that will only be found in Him.  Maybe today you are facing a divorce and you have fought to make that marriage work and yet your spouse just isn't willing to do whatever it takes to make it work, I would encourage you to give your broken heart to God, don't allow your hurt to fester until you are filled with anger.  God knows!  He sees all that has happened and no, that was not His plan, but He still has a plan for you!  He will take those ashes and make your life beautiful if you will let Him!  
Maybe you are dealing with an illness that has worn you out and you don't feel like fighting anymore, I have been there ~ don't give up!  Pray for God's healing, ask the elders of your church to anoint you with oil and pray over you for healing and check out a Doctor of Natural Medicine if you haven't yet (I put Dr. Clark's number below he is an Oncologist who has switched to natural medicine and he can treat via the mail and over the phone if necessary).  Just like anything else, do whatever it takes to get well so you can be all He created you to be.  Don't give up until He takes you, you may have years yet to serve Him so get healthy so you can get started.  Add your name in our prayer requests so we can be praying for you as well!  
Are you struggling with an addiction that you aren't sure how you will ever have victory over?  Give it to God and take one day at a time!  You can do it!  Don't look a month or even a week down the road, just look at today!  You can have victory today!  If every day, you learn to have victory today, you will win!  God doesn't give us strength for tomorrow until it comes, He gives us strength for today!  He's got you, you can do this!  
Are your finances upside down and a wreck?  Once again, take one day at a time.  Seek godly counsel.  Look up the Money Couple or Dave Ramsey.  Start making good choices today and budget out each paycheck so you know where your money is going.  If you aren't sure where your money is going, keep a small pad of paper with you and write down everything you buy right down to a pack of gum and you will figure it out.  
No matter what you are dealing with today, God is bigger than your problem and He would like to show you the way!  Trust Him and His love for you and He will bring you through this better on the other side!  The best is yet to come!
Quote:    "The journey of a thousand miles begins with one step."  Chinese Proverb
Dr. Clark ~ (954) 643-1766
Please take a moment and share your prayer requests and pray for others as well:  CLICK HERE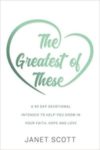 " SALE" for $9.95!
Ladies, I am so excited to share with you that my book is now available.  This would be great to buy and give to someone who is struggling or for your Ladies Group to go through together, or even for someone who doesn't know the Love of God yet.  CLICK HERE.  The new book is a 90-day devotional to help you grow in your understanding of His love which in turn will give you hope and grow your faith.  ALSO: PLEASE, if you have ordered the book would you please go to Amazon and leave a review?  Thank you so much for your support in spreading the word!