2 Chronicles 20:20-21  Early in the morning they left for the Desert of Tekoa.  As they set out Jehoshaphat stood and said, "Listen to me, Judah and people of Jerusalem!  Have faith in the Lord your God and you will be upheld; have faith in His prophets and you will be successful."  After consulting the people, Jehoshaphat appointed men to sing to the Lord and to praise Him for the splendor of His holiness as they went out at the head of the army, saying:  "Give thanks to the Lord, for His love endures forever."
A great army had come against King Jehoshaphat and Judah and after Jehoshaphat had prayed the prophet Jahaziel told them that the Lord said that He would fight for them.  The battle wasn't theirs but they were to go out and stand and see the victory that The Lord was going to bring!
Is that you today?  Is He asking you to just stand and watch as He fights this battle for you?  As it says in Ephesians 6:12 – 13, "For we do not wrestle against flesh and blood, but against the rulers, against the authorities, against the cosmic powers over this present darkness, against the spiritual forces of evil in the heavenly places.  Therefore take up the whole armor of God, that you may be able to withstand in the evil day and having done all, to stand firm."  Whatever struggle you may be facing, it is a spiritual battle.  No matter what it is you need to put on the full armor of God and then stand firm in your faith that what He has said He will do!  
Now, notice what they did after they were told that God would fight for them.  They didn't go out shaking in their boots, they went out singing praises to God!  They were praising Him and thanking Him before they saw the victory!  They believed it before they saw it because they took God at His word!  If He has promised it He will bring it to pass!  You can count on the fact that God is a God of His word!  He cannot lie!  He loves you and if you have done all that you can and you are following Him, trust Him to do what is best and right!  Pour your heart out to Him just like Jehoshaphat did.  In verse12 he said, "For we have no power to face this vast army that is attacking us.  We do not know what to do, but our eyes are on you."  Keep your eyes fixed on Him and trust Him to deliver you!  
Start praising Him today for all He is about to do!  Pray and ask Him to show up mighty in your circumstances and to show you what you should or shouldn't be doing in this situation.  Trust Him and stand firm on His Word!  If you follow Him and trust Him you will come out stronger and better able to serve Him on the other side of all of this!  Trust Him that His best is yet to come!
Quote:  "Mountaintops inspire leaders but valleys mature them.  ~ J. Philip Everson
Please take a moment and share your prayer requests and pray for others as well:  CLICK HERE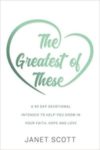 Ladies, I am so excited to share with you that my book is now available.  This would be great to buy and give to someone who is struggling or for your Ladies Group to go through together, or even for someone who doesn't know the Love of God yet.  CLICK HERE.  The new book is a 90-day devotional to help you grow in your understanding of His love which in turn will give you hope and grow your faith.  ALSO: PLEASE, if you have ordered the book would you please go to Amazon and leave a review?  Thank you so much for your support in spreading the word!