1 Chronicles 4:10   Jabez called upon the God of Israel, saying, "Oh that you would bless me and enlarge my border, and that your hand might be with me, and that you would keep me from harm so that it might not bring me pain!"  And God granted what he asked.
I could certainly use God's blessing and favor today ~ how about you?  I believe there are times we long for God's blessing and favor even more to give us the reassurance that we are on the right track, we are following Him the way He has called us to and He is pleased.  
Yes, there are also those times when we need His favor and blessing to meet our needs because without Him, we are nothing and are brought to nothing.  We have all read the verses that tell us that He cares about the birds of the air and the flowers of the field so how much more will He care about us and meet our needs.  (Luke 12)  But today I am talking about God's unmerited favor and blessing.  We need to not just pray for our needs but there are times you need to pray for Him to show you His favor in His direction for your life and there is nothing wrong with that!
We live in such a crazy world and satan is constantly doing his best to tear us down with his lies and there are times we just need God to reach out and do something that just speaks to us individually!  God wants that individual walk and relationship with you, so ask Him for it!  Ask Him to show you His favor and blessing in the things He has called you to do.  Ask Him to show Himself mighty in your life so that others will see His work in you and be drawn to Him!  Hold on to your faith!  Hold on to your hope and trust Him to show you all He has in store!  The best is yet to come!
Quote:  "All that we love deeply becomes a part of us."  Helen Keller
AND by the way…… if you have never read the book, "The Prayer Of Jabez" by Bruce Wilkinson,  I would highly recommend it!
Please take a moment and share your prayer requests and pray for others as well:  CLICK HERE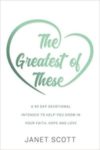 Ladies, I am so excited to share with you that my book is now available.  This would be great to buy and give to someone who is struggling or for your Ladies Group to go through together, or even for someone who doesn't know the Love of God yet.  CLICK HERE.  The new book is a 90-day devotional to help you grow in your understanding of His love which in turn will give you hope and grow your faith.  ALSO: PLEASE, if you have ordered the book would you please go to Amazon and leave a review?  Thank you so much for your support in spreading the word!