Matthew 6:33. "But seek first the kingdom of God and His righteousness, and all these things will be added to you."
If you want your life to be different then maybe it is time to do something different!  Is your marriage a struggle, or if you are single; does every relationship you find, end in disaster?  Are your finances never-ending stress?  It is time for a change, real change the kind that takes place deep in your heart!  Don't be discouraged, you will love this change!
I have watched as people bounce from one relationship to the next and each one ends up in heartache and sorrow and the problem comes from the fact that they aren't doing anything different.  They keep choosing the same type of people because they haven't changed.  I have watched our own finances struggle when we complain but don't do anything different in the way we handle it.  
If you want a relationship that will last then:
#1 ~ You need to both be willing to work on your relationship with God (Seek first the kingdom of God and His righteousness)  Get in church and spend time in His word.
#2 ~ Seek godly counsel and advice, you have to lose the old baggage from past relationships so you aren't dragging all of that with you, plus if you don't get counseling, you will choose the "same person"!
If you want success in your finances:
#1 ~ Find a plan that works for you!  The Money Couple has some great books and a blog that you should check out!  CLICK HERE  and you can join the Dave Ramsey course either online or there is probably a church in your town hosting a class!  CLICK HERE
#2 ~ Stick to the plan! 
God wants you to find success in every area of your life.  You must seek Him first.  You need to do what it takes to change if a change is necessary.  Allow God to guide you.  Stop acting desperate!  When you put God first, the rest will start to fall into place.  When you put these other things, relationships, finances, children, etc., first everything falls apart!  Start today and take the time to give it all to God and ask Him to show you what needs to change in your life!  The best is yet to come!
Quote:  "Men are anxious to improve their circumstances, but are unwilling to improve themselves; they, therefore, remain bound."  James Allen, "As A Man Thinketh"
Please take a moment and share your prayer requests and pray for others as well:  CLICK HERE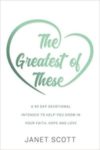 Ladies, I am so excited to share with you that my book is now available.  This would be great to buy and give to someone who is struggling or for your Ladies Group to go through together, or even for someone who doesn't know the Love of God yet.  CLICK HERE.  The new book is a 90-day devotional to help you grow in your understanding of His love which in turn will give you hope and grow your faith.  ALSO: PLEASE, if you have ordered the book would you please go to Amazon and leave a review?  Thank you so much for your support in spreading the word!