Philippians 1:6  being confident of this very thing, that He who has begun a good work in you will complete it until the day of Jesus Christ;
Don't lose your focus on what God is calling you to do!  Don't allow the seemingly urgent things totally take over what God has declared important for you.  
That is easy to say and yet, believe me, it can be very difficult at times!  Satan loves to throw things and people and even perfectly good opportunities at you to draw your attention away from what you are called to do.  There are times when you don't really have a choice and then there are times we all get distracted easily from what we should be focused on.  It is really easy when there seems to be a lull in God's activity, you know; when it seems as though God isn't really moving in a way that you can see it.  Sometimes in the waiting we get too impatient and start taking things into our own hands, it's almost like we subconsciously seem to think God doesn't have enough to do so we create more messes for Him.  Look at the mess it made when Sarah gave her maid, Hagar, to Abram! ( Genesis 16) and sometimes those messes affect generations to come!
Have you ever found, that more things come at you when you are determined to do something or finish something that you know you are supposed to do?  Even my health seems to attack me when I have a lot to do!  It is crazy!  Some days it feels like I am in a room with an over grown toddler who is just throwing one thing after the next at me in some fit of temper tantrums.  
It can be hard sometimes to focus on the thing you know you need to focus on so when you first wake up and all throughout your day, ask God to help you to sort out what is important vs. something that can wait or maybe you just need to say "no" in some cases.  Allow Him to guide your every step and watch as you regain your focus and priorities.  He wants to work in and through you, but you must do your part in setting goals and priorities so you can give Him your best. Be confident!  Ask Him for the faith you need if you feel you are lacking. Trust Him, the best is yet to come!
Quote:  "One of our greatest dangers we face in life is in permitting the urgent things to crowd out the important."  ~ Charles E. Hummel
Please take a moment and share your prayer requests and pray for others as well:  CLICK HERE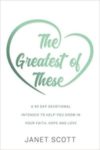 Ladies, I am so excited to share with you that my book is now available.  This would be great to buy and give to someone who is struggling or for your Ladies Group to go through together, or even for someone who doesn't know the Love of God yet.  CLICK HERE.  The new book is a 90-day devotional to help you grow in your understanding of His love which in turn will give you hope and grow your faith.  ALSO: PLEASE, if you have ordered the book would you please go to Amazon and leave a review?  Thank you so much for your support in spreading the word!