Psalm 100:4  Enter into His gates with thanksgiving, and into His courts with praise.  Be thankful to Him, and bless His name.
I love this verse for some reason.  There is just something about this verse that brings great comfort to me, that may sound odd because there are no great promises or blessings that jump out at us telling us everything is going to be all right but there is great comfort in the fact that we are allowed to enter His gates and courts and be in the presence of God!  Wow!  That just puts me in awe to think He cares that much that He will personally listen to our petitions and that He cares about every little detail of each of our lives.  
Just think, when Queen Esther had to go before the king she was concerned that if he wasn't in a good mood he could have her killed right there on the spot for entering his presence without being sent for and yet we are told to come boldly before the throne of God's grace!  (Hebrews 4:16)  There is great comfort to be found in this!  God is so loving and so good that He wants to hear from us, how can we take that lightly?  Just that thought alone is worth entering His gates with Thanksgiving and praising Him in His courts!  He truly is beyond worthy of our praise and He deserves to hear it on a regular basis, it ought to flow out of our mouths. 
I would challenge you today to look around and think of all the many things you can thank God for and all the things you can praise Him for.  The more you do this the more you will find.  I have seen that post on facebook several times asking what you would have this morning if all you had left was what you thanked God for yesterday and I have to admit there is a part of me that doesn't care for that because I feel as though it carries a burden and negative note instead of the positive message of thankfulness, but the meaning behind it is great – we need to always remind ourselves of all the good God does in our lives, it makes the other stuff bearable and we should always be in a state of mind that is thankful and honoring to God for all He does and will do in our lives.  
Quote:  "Happiness is a conscious choice, not an automatic response."  Mildred Barthel
Please take a moment and share your prayer requests and pray for others as well:  CLICK HERE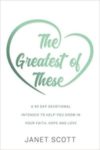 Ladies, I am so excited to share with you that my book is now available.  This would be great to buy and give to someone who is struggling or for your Ladies Group to go through together, or even for someone who doesn't know the Love of God yet.  CLICK HERE.  The new book is a 90-day devotional to help you grow in your understanding of His love which in turn will give you hope and grow your faith.  ALSO: PLEASE, if you have ordered the book would you please go to Amazon and leave a review?  Thank you so much for your support in spreading the word!