Ephesians 3:16-21  that according to the riches of his glory he may grant you to be strengthened with power through his Spirit in your inner being, so that Christ may dwell in your hearts through faith ~ that you, being rooted and grounded in love, may have strength to comprehend with all the saints what is the breadth and length and height and depth, and to know the love of Christ that  surpasses knowledge, that you may be filled with all the fullness of God.  Now to him who is able to do far more abundantly than all that we ask or think according to the power at work within us, to him be glory in the church and in Christ Jesus throughout all generations, forever and ever.  Amen
What can you do when you just don't feel God's presence or love in your life and situation?  It is so awful when you feel all alone in your situation and satan loves to attack and put ideas into your head that you don't matter and that God doesn't really care.  Those are lies and you know they are, don't allow him to get a foothold in your thoughts today!  God is right by your side and odds are, there are other people in your life who do care as well, ask God to show you who you can trust to walk through this with you.  You are not alone!
When you just don't "feel" God, you have to trust what you know about Him!  Ladies, seriously, can you ever really just trust your feelings to guide you about anything?  There have been days I didn't know what was reality and what was just crazy hormones! You can never allow what you feel to determine what is truth!  "And when you know the truth, the truth will set you free!" Ask God to reveal the truth to you and hold on with all your might to what you know about God!  Don't waste a moment on what you may feel.  Allow God to strengthen you through His Spirit, hold on to your faith and trust His love and what you know to be true about Him.  When you focus on what you know to be true about God, not what you feel about your situation, you empower yourself in the inner strength He gives you to get through to the other side!  Don't give satan a foothold and certainly don't give him the victory!  
Hold on to what you know ~ the best is yet to come!
Quote:   "Hope never dies where faith is strong, and faith grows strong in the presence of hope."  Chad Witmeyer
Please take a moment and share your prayer requests and pray for others as well:  CLICK HERE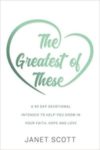 Ladies, I am so excited to share with you that my book is now available.  This would be great to buy and give to someone who is struggling or for your Ladies Group to go through together, or even for someone who doesn't know the Love of God yet.  CLICK HERE.  The new book is a 90-Day devotional to help you grow in your understanding of His love which in turn will give you hope and grow your faith.