Exodus 31:1-5. The Lord said to Moses, "See I have called by name Bezalel the son of Uri, son of Hur, of the tribe of Judah, and I have filled him with the Spirit of God with ability and intelligence, with knowledge and all craftsmanship to devise artistic designs, to work in gold, silver, and bronze, in cutting stones for setting and in carving wood to work in every craft.
Whatever God has called you to do He has already placed all of the talents and intelligence you need in you to do it.  Work on those talents and perfect what you do but don't waste them.  There is nothing sadder than to see someone whom God has gifted in an area to the degree that it is so obvious and either they don't use it at all or they don't use it for Him.  
I know of people who are gifted in so many different areas, some may be considered ministry and others are considered artistic, but no matter what your talents maybe you can use them for God.  Doing something for God doesn't always mean you are doing it in or for the church, it may be that you have the ability to cook so you make meals for families when they are needing some help or you go to a shelter and volunteer your time and cook for the homeless or maybe you are just cooking for your family but your heart and soul are in it to bless others in your family with the love of God through your cooking.  
See?  It isn't what you are doing it is how you are doing it, it is a matter of attitude.  In Ecclesiastes 9:10 it says, "Whatever your hand finds to do, do it with your might."  We can all use any talents God has placed within us to serve Him in a better way if we do it with the right attitudes.  It isn't about us it is about Him!    
 Are there gifts that God would love to still use but for some reason someone has shut them down?  Let me encourage you to pray today and ask God for restoration for those people who are truly seeking God and have gifts that they are not using to be used by Him again.  If you know someone that needs encouragement today in that area, pray for them, encourage them and ask God to show them how they can be used by Him again.  There is nothing greater than using all that God has placed within you to serve Him.  
Quote:  "First we make our attitudes…… then our attitudes make us."  Dennis Waitley
Please take a moment and share your prayer requests and pray for others as well:  CLICK HERE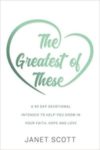 Ladies, I am so excited to share with you that my book is now available.  This would be great to buy and give to someone who is struggling or for your Ladies Group to go through together, or even for someone who doesn't know the Love of God yet.  CLICK HERE.  The new book is a 90-day devotional to help you grow in your understanding of His love which in turn will give you hope and grow your faith.  ALSO: PLEASE, if you have ordered the book would you please go to Amazon and leave a review?  Thank you so much for your support in spreading the word!