Matthew 9:37-38. Then He said to His disciples, "The harvest truly is plentiful, but the laborers are few.  Therefore pray the Lord of the harvest to send out laborers into His harvest."
Not everyone can go, but everyone can pray and support those who do go!  We can also be laborers where we are!  Which one are you?  
The Lord is doing miraculous things to reach the lost.  What are you doing to reach others for Him?  I have even heard incredible stories by missionaries of the amazing things God is doing to reveal Himself in other countries.
It is easy to get caught up in our everyday lives and forget "the lost".  How sad is that?  Satan likes to get us so caught up in our struggles that we forget to pray for other people to come to know Christ and to pray for those who are out there risking their lives in other countries in order to reach them with the love of Jesus!  It may seem to be a small thing to "just pray", but prayer is a powerful thing and it needs to be used more often.  If you haven't seen the movie, "War Room" I would recommend it, to get you fired back up!
I am amazed by how many people here in America even, those who don't have a clue about God, our God, the one and only True God!  How sad, how can you grow up here in a country that was founded on the people's beliefs in God and know nothing about Him?  We are missing it ladies!  We need to be praying for our country, our pastors, politicians, especially our teachers.  We need to pray that God will lead and direct them and that they will be open to His leading.  We need to remember the verses that say, "if My people who are called by My name will humble themselves, and pray and seek My face, and turn from their wicked ways, then I will hear from heaven, and will forgive their sin and heal their land."  2 Chronicles 7:14.  God would love to see our country turn around, we need to be on our knees praying for it!
We all know at least one missionary or unsaved person somewhere in this world. I know we have many women who read Chocolate and God who live in other countries and are doing their best to reach others.   Are you praying for the ones you know?  Start praying for those you don't know as well!  Ask God what you can do today or how you can pray?  There's so much we can do right from our homes.  What are you feeling led to do today?  Are you called to stay and work from here or are you called to go? Open your heart and mind to all that God has in store for you today!  
Quote:  "Life begins when you do."  ~ Hugh Downs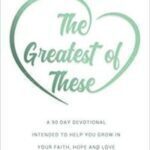 SALE" for $9.95!
Ladies, I am so excited to share with you that my book is now available temporarily at a discounted price.  This would be great to buy and give to someone who is struggling or for your Ladies Group to go through together, or even for someone who doesn't know the Love of God yet.  CLICK HERE.  The new book is a 90-day devotional to help you grow in your understanding of His love which in turn will give you hope and grow your faith.  ALSO: PLEASE, if you have ordered the book would you please go to Amazon and leave a review?  Thank you so much for your support in spreading the word!