Ephesians 6:10  Finally, my brethren, be strong in the Lord, and in the power of his might.
What does your day hold for you today?  Are there things you are facing that could be very good, yet challenging?  Are you facing devastation and loss?  What is it that has you a bit anxious that you could use some more confidence to see you through?
You can be strong!  You will get through this!  You aren't alone, nor do you have to face it or handle it alone!  Your God is the God who heals!  He is the God who sees!  He is the God of all creation and nothing is too difficult for Him!  What do you need from Him today because absolutely anything and everything you may need can be found in Him!  Whether you are facing chemotherapy or loss or maybe a new job, maybe it is trying to keep up with children, a husband, homeschooling and your house, maybe it's loneliness, He wants to be your strength!  He  wants to give you His power to see you through your day!  Don't spend another day just numb, going through the motions, ask Him to fill you with His strength for the day and His power on your life!  Ask Him to go before you today, preparing your way and guiding you!
You can have a victorious day!  There are times when we must plan out for what is ahead and there are times when we need to just take one day at a time and only you and God know which one of those you are facing today.  Follow Him!  Trust Him with today!  Trust Him that He has a plan for tomorrow and the next day and the next……. Jeremiah 29:11, "For I know the plans I have for you," declares the Lord, "plans to prosper you and not to harm you, plans to give you hope and a future.'  That verse is for you today.  Maybe if you just give that future of yours to Him and focus on what He has for you today, you will have the strength you need for the day!  Don't try to tackle tomorrow today.  Focus on Him and what He gives you today, trusting that with Him and in Him you will find that the best is yet to come!
Quote:  "It's not where you start ~ it's where you finish that counts.'  ~ Zig Ziglar
Please take a moment and share your prayer requests and pray for others as well:  CLICK HERE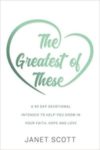 Ladies, I am so excited to share with you that my book is now available.  This would be great to buy and give to someone who is struggling or for your Ladies Group to go through together, or even for someone who doesn't know the Love of God yet.  CLICK HERE.  The new book is a 90-Day devotional to help you grow in your understanding of His love which in turn will give you hope and grow your faith.  ALSO: PLEASE, if you have ordered the book would you please go to Amazon and leave a review?  Thank you so much for your support in spreading the Word!