Judges 8:4. And Gideon came to Jordan, and passed over, he and the three hundred men that were with him, faint, yet pursuing them.
Are there things that you feel called to do or things you would really like to accomplish sometime in this lifetime and yet you are overwhelmed with what is on your plate now?  I have felt for the longest time as though I am supposed to work with women on a local level as well as writing.  There are books in my head that need to be put on paper and published and there are lunches with friends that I just never even seem to be able to get to.  I have felt like maybe, just maybe one of these days things will slow down and I will be able to focus on those things, but it just never seems to happen.  Satan seems to bombard me with "stuff" that "needs" to be done and situations that are frustrating or overwhelming until I feel too exhausted to think about doing anything else!
Hmmmmmmm……. can you see it?  What's our problem?  Are you tired?  Are you overwhelmed with just the everyday?  Are you desperate for a break?  As Dr. Charles Keen once said, "Victories are won by those who are tired."  Just like Gideon and his army, we cannot concede to defeat!  The place to start is with your priorities:  are there things you have taken on that can and or should go?  Are you putting too much emphasis on things that don't really matter?  Are you taking time for you?  You need to make sure you have some downtime in order for your mind to process everything better!   I had a friend who had 5 young children all of them being 8 and under and one day her husband came home and when he walked in the door, she grabbed the keys out of his hand, told him that dinner was in the oven and she would be back in about 3 hours!  Sort out your priorities ~ don't miss out on the call of God on your life for any reason!  I know you are tired, but you will find peace and rest in following Him and His will for your life!  I don't feel like doing 1 more thing either, but the answer truly is to push past the "I don't think I can do one more thing", to "what God has called me to do, comes first".  First, you must evaluate if there are things that need to go into your schedule.  For example, your child doesn't need to be involved in every organized sport, etc. that comes their way, they need to be taught balance in life as well.  Unorganized playing outside with siblings or your friend's children is actually healthier than organized sports for them and you.
If you can just take the time to sort out what is most important, get those priorities in the proper order and then pray for the determination and strength to get going on what you are supposed to do, He will be there!  Let's not waste another day ladies on the things that need to take a backseat in our lives.  Let's make our lives count for all that God has called us to do!  Our time is short and let's be all we are called to be by allowing Him to show us what is most important to Him in our list of things to do!
Quote:  "Things that matter most must never be at the mercy of things that matter least."  Goethe
Please take a moment and share your prayer requests and pray for others as well:  CLICK HERE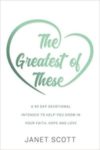 Ladies, I am so excited to share with you that my book is now available.  This would be great to buy and give to someone who is struggling or for your Ladies Group to go through together, or even for someone who doesn't know the Love of God yet.  CLICK HERE.  The new book is a 90-day devotional to help you grow in your understanding of His love which in turn will give you hope and grow your faith.  ALSO: PLEASE, if you have ordered the book would you please go to Amazon and leave a review?  Thank you so much for your support in spreading the word!