2 Corinthians 7:1  Since we have these promises, beloved, let us cleanse ourselves from every defilement of body and spirit, bringing holiness to completion in the fear of God.
What promises is he talking about here, would be the first question:                                                         Let's take a look at the verses in chapter 6:16-18 which say, "What agreement has the temple of God with idols?  For we are the temple of the living God; as God said, "I will make my dwelling among them and walk among them, and I will be their God and they shall be my people.  Therefore go out from their midst, and be separate from them, says the Lord, and touch no unclean thing; then I will welcome you, and I will be a father to you, and you shall be sons and daughters to me, says the Lord Almighty."
The promise of God living within us and calling us His sons and daughters should drive us to want to be like Him.  His love for you should drive you to want to love Him and please Him more!  The more you get to know Him and the more you strive to be like Him, the greater His light will shine through you so others will be drawn to Him!  God longs to show Himself through you and to show Himself mighty in you life.  By pushing away the sin in our lives and striving to do what we know is right, we draw closer to God.  Remember the Temple in the Old Testament?  It was not just special to the Jewish nation because it was the place where they worshipped God.  It was special because it represented the place of God's presence and now your body is the "Temple of the Living God" so His presence ought to just ooze out of us all over those around us.  We need to live lives that allow His presence to shine through us!
God wants you to behave in a way that will make your heritage in Him evident!  He wants others to be able to look at you and the way you dress, talk, walk and behave, how you treat others, etc., to reflect His work in your life!  If other people wonder whether or not you know God, then you know He is not shining through on the level He should be.  
Let me encourage you today to get to know Him better.  Strive to be an imitator of Jesus!  Ask Him to fill you today and to show you any area of your life that you may need to work on.  Know that His desire is to walk with you through every thing you may face, every trial, every mountain top and He wants you to thrive as His child, not just survive!  The best is yet to come!
Quote:  "Men are anxious to improve their circumstances, but are willing to improve themselves; they therefore remain bound."  Adrian Rogers
Please take a moment and share your prayer requests and pray for others as well:  CLICK HERE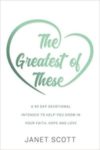 Ladies, I am so excited to share with you that my book is now available.  This would be great to buy and give to someone who is struggling or for your Ladies Group to go through together, or even for someone who doesn't know the Love of God yet.  CLICK HERE.  The new book is a 90-day devotional to help you grow in your understanding of His love which in turn will give you hope and grow your faith.  ALSO: PLEASE, if you have ordered the book would you please go to Amazon and leave a review?  Thank you so much for your support in spreading the word!