Psalm 25: 14-15  The secret of the Lord is with those who fear Him, And He will show them His covenant.  My eyes are ever toward the Lord, For He shall pluck my feet out of the net.
Are you feeling "stuck" in your circumstances, overwhelmed or fearful of what is going on around you?  I don't know what you may be facing today and let's face it the world seems to almost get crazier by the minute, but God is still God and He needs to be our focus.  
If you will just keep your eyes on God and trust that He will give you the wisdom you need for all that you face.  There are times when we just need to blindly trust and  step out in the direction that God is leading us in, knowing that He has the answers to all the things we cannot see.  There are also times when He calls us to just sit and wait for Him to move, but the fact is; you will not know which one to do if you don't keep your eyes on Him!  So often people complain about not knowing the answers but all along there eyes are roaming, trying to find an answer instead of just focusing on God and waiting on His answers!  Isaiah 26:3 "You will keep him in perfect peace, whose mind is stayed on you, because he trusts in you."  
Hebrews 11:6 "But without faith it is impossible to please Him, for he who comes to God must believe that He is, and that He is a rewarder of those who diligently seek Him."  Faith and trust in God is a must!  Remember this;  The opposite of faith is fear, so if you are living in fear, you are lacking faith.  In Mark 4:40 Jesus said to His disciples: "Why are you so fearful?  How is it that you have no faith?"  I would encourage you to memorize Hebrews 11:1 "Now faith is the substance of things hoped for, the evidence of things not seen."  If there was ever a day and age where we needed to have faith in God and trust Him wholeheartedly it is today!  We need to remind ourselves that He is the one and only true God, He has all of the answers and He loves us and knows what is best for us!  We need to trust Him with all that is going on and all that we face.  God is still good and He will deliver you!  As the verse above says, "He shall pluck my feet out of the net."
No matter what it is today that you are consumed with, take it to God and trust Him to do what is best and guide you into all that you need to do or not do. Seek Godly counsel!  Keep your eyes on Him, the best is yet to come!
Quote:  "Courage does not always roar.  Sometimes it is the quiet voice at the end of the day, saying, "I will try again tomorrow."
Please take a moment and share your prayer requests and pray for others as well:  CLICK HERE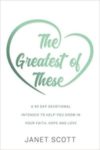 Ladies, I am so excited to share with you that my book is now available.  This would be great to buy and give to someone who is struggling or for your Ladies Group to go through together, or even for someone who doesn't know the Love of God yet.  CLICK HERE.  The new book is a 90-Day devotional to help you grow in your understanding of His love which in turn will give you hope and grow your faith.  ALSO: PLEASE, if you have ordered the book would you please go to Amazon and leave a review?  Thank you so much for your support in spreading the Word!