2 Corinthians 1:2-4   "Grace to you and peace from God our Father and the Lord Jesus Christ.  Blessed be the God and Father of our Lord Jesus Christ, the Father of mercies and God of all comfort, who comforts us in all our tribulation, that we may be able to comfort those who are in any trouble, with the comfort with which we ourselves are comforted by God.
Allow God to be your comfort today!  If you allow your focus to be all the chaos going on around you, you could easily lose your peace, joy and hope.  Let me encourage you to focus on Him!
Too many people seem to be going crazy these days but we don't need to live a life of fear, caution ~ yes, but not fear!  2 Timothy 1:7, "For God has not given us a spirit of fear, but of power, and of love and of a sound mind."  Fear is the opposite of faith and we are called to hold on to our faith in Him, no matter what!  
Whatever you may be facing today, God is still in control.  It is God Who protects you, It is God Who gives you health, it is God Who at the end of the day determines the outcome ~ if you will give it all to Him!  God loves you and knows what is best for you!  Jeremiah 29:11, "For I know the plans I have for you", declares the Lord, "plans for good and not for evil, to give you a future and a hope."  No matter what other people may tell you, your answers are found in Him!  We know God can do anything, faith is knowing He will do something!  Trust Him, He loves you more than you love yourself!
We need to do our part, we need to be in His Word, we need to on our knees praying and we need to trust Him with what He tells us!  
Don't allow satan to rob you today with his lies!  If you or someone you love is ill, you don't give up or listen to satan's lies until God tells you it is "time".  If your finances are messed up, give them to God, read some good books and begin today to straighten them out ~ God will help you!  There are great resources out there, The Money Couple has great resources and so does Dave Ramsey.  If you need counseling for your marriage or maybe you are single and are struggling with all of the issues that come with that at times, don't hesitate to seek godly counsel.  Whatever you may be dealing with, take it to God and don't buy the lies!  Speak God's truth over all that you are dealing with today.  Write these verses down today in this study and carry them with you so you can pull them out and read them every time you start to get discouraged!  The best way to have victory over satan's lies is to use scripture:  "This Book of the Law shall not depart from your mouth, but you shall meditate on it day and night, so that you may be careful to do according to all that is written in it.  For then you will make your way prosperous, and then you will have good success."  Joshua 1:8
No matter what, hold on to your faith and hope in God!  He will see you through!
Quote:  "Faith is taking the first step even when you don't see the whole staircase."  Martin Luther King
Please take a moment and share your prayer requests and pray for others as well:  CLICK HERE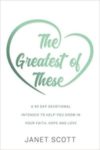 Ladies, I am so excited to share with you that my book is now available.  This would be great to buy and give to someone who is struggling or for your Ladies Group to go through together, or even for someone who doesn't know the Love of God yet.  CLICK HERE.  The new book is a 90-Day devotional to help you grow in your understanding of His love which in turn will give you hope and grow your faith.  ALSO: PLEASE, if you have ordered the book would you please go to Amazon and leave a review?  Thank you so much for your support in spreading the Word!