Psalm 16:8  "I have set the Lord always before me; Because He is at my right hand I shall not be moved."
So, the question of the day:  Where have you set God?  Do you have Him on a shelf tucked neatly between what you want, your busy schedule and what your friends and family want, maybe needing a little dusting off?  Is He stuffed in the closet so you can pull Him out when things get tough and you can pour your heart out to Him?  Do you have Him hidden somewhere so only the people you want to know that He is a part of your life will know?  (I am not talking about those people who have to worship God in secret in some of the countries around the world where they are not free to openly worship ~ there is a difference!)  Have you forgotten where you put Him?
As silly as those questions may seem, where does God really fit into your life?  Think about it for a minute.  How important is He other than when you need something?  Do you desire a close, personal relationship with Him?  He desires a close relationship with you!  He wants to be by your side in all that you do and all that you face.  He loves you more than you could even possibly love yourself!  His desire is to see you fulfill all that He created you to be and do!
If you want to have true victory in your life then He needs to always be before you!  We need to set our minds on Him and allow Him to be the answer to our questions and our guide when we need to make decisions.  We must spend quality time with Him!
If we will truly set our minds on Him and set the Lord always before us then we will not easily waiver in our faith and in our beliefs.  We live in a world where people want to believe there are no absolutes, there's no real right or wrong, it is an "if it feels good and right to you do it" society.  That goes against everything the Bible teaches us.  We need to teach our children and grandchildren what the Bible says about those things.  James 1:6 "But let him ask in faith, with no doubting, for the one who doubts is like a wave of the sea that is driven and tossed by the wind."   The only way to truly have the faith we need and to live the life we are called to live is to always have "set the Lord always before us."  The Bible also tells us that without faith it is impossible to please God, but I can guarantee you that if He isn't at the forefront of your life your faith will always be lacking.  Our faith comes from knowing who He is and reminding ourselves of that every day!  He is the God of all creation, the Lord of all the earth, He is our heavenly Father, He created you as one of His masterpieces, He is the healer of broken hearts, He is the only one who can forgive our sins and make us new again, He is the provider, the lover of your soul……… our list is never-ending!
Remind yourself of who He is today!  Make Him first on your list of priorities!  Seek Him with your whole heart, mind, and soul!  Ask Him to help you rearrange whatever you need to in order to set Him before you.  Know how much He loves you and wants to be apart of all that you do and face!  All of your answers will be found in Him today, so stop looking elsewhere!
Quote:  "Even if you are on the right track, you will get run over if you just sit there!"  Will Rogers
Please take a moment and share your prayer requests and pray for others as well:  CLICK HERE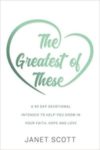 Ladies, I am so excited to share with you that my book is now available.  This would be great to buy and give to someone who is struggling or for your Ladies Group to go through together, or even for someone who doesn't know the Love of God yet.  CLICK HERE.  The new book is a 90-day devotional to help you grow in your understanding of His love which in turn will give you hope and grow your faith.  ALSO: PLEASE, if you have ordered the book would you please go to Amazon and leave a review?  Thank you so much for your support in spreading the word!