Psalm 56:8. You have kept count of my tossing; put my tears in your bottle.  Are they not in your book?
God loves you and He cares about every tear you cry, every heartache, struggle, blessing, and joyful experience!  He cares about it all and He wants to walk every step of life with you!  You are not alone no matter how much you may feel that you are.  Sometimes we can experience things that are so overwhelming that no matter how many people there may be around, it is not a weight they can carry or sometimes even fathom, but God knows and He cares deeply!  It's not easy! That enemy, the devil, is constantly roaming around looking for someone to devour and he just likes to pick, pick, pick, pick hoping that you will give up.  Don't give up and don't despair, you are not alone!  God will send out an army if necessary to protect you if you will just stick close by His side!  God doesn't ordain that tragedy you may face in life but there are times He may allow it to teach you something or to draw you close to Him.  Whatever He has allowed He will give you the strength to get through to the other side and He will work in you to make you more equipped to better serve Him if you allow Him to!  Allow Him to fill you with His love, mercy, and grace.  Getting angry, bitter and frustrated will just make everything worse and will make the situation feel that much more hopeless.  Trust Him, no one loves you as He does.  
I recently found a story by Sheila Walsh that I want to share with you:    Of all the lessons I have learned from these defenseless, gentle animals,(sheep) the most profound is the most painful.  Every now and then, a ewe will give birth to a lamb and immediately reject it.  Sometimes the lamb is rejected because they are one of twins and the mother doesn't have enough milk or she is old and frankly quite tired of the whole business.  They call those lambs, bummer lambs.
Unless the shepherd intervenes, that lamb will die.  So the shepherd will take that little lost one into his home and hand feed it from a bottle and keep it warm by the fire.  He will wrap it up warm and hold it close enough to hear a heartbeat.  When the lamb is strong the shepherd will place it back in the field with the rest of the flock.
"Off you go now, you can do this, I'm right here."
The most beautiful sight to see is when the shepherd approaches his flock in the morning and calls them out, "Sheep, sheep, sheep!"  The first to run to him are the bummer lambs because they know his voice.  It's not that they are more loved ~ it's just that they believe it.  I am so grateful that Christ calls himself the Good Shepherd.
I shared that story with you because there are times in each of our lives that we are that bummer lamb and when it is you, you need to know that your Good Shepherd wants to draw you close to His heart.  He wants to carry you through to the other side so when the good times do come again you will know His love and His voice and no matter what satan tries to throw at you, you will believe that God is by your side and His love will see you through and He will provide you with all you need for your journey!  You can trust Him ~ His best is yet to come!
Quote:   "What lies behind us and what lies before us are tiny matters compared to what lies within us."  ~ Ralph Waldo Emerson
Please take a moment and share your prayer requests and pray for others as well:  CLICK HERE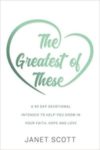 Ladies, I am so excited to share with you that my book is now available.  This would be great to buy and give to someone who is struggling or for your Ladies Group to go through together, or even for someone who doesn't know the Love of God yet.  CLICK HERE.  The new book is a 90-day devotional to help you grow in your understanding of His love which in turn will give you hope and grow your faith.  ALSO: PLEASE, if you have ordered the book would you please go to Amazon and leave a review?  Thank you so much for your support in spreading the word!