Jeremiah 29: 11-13  "For I know the plans I have for you," declares the Lord, "plans to prosper you and not to harm you, plans to give you hope and a future.  Then you will call on me and come and pray to me, and I will listen to you.  You will seek me and find me when you seek me with all your heart."
Twice this week I have prayed for God to give me something for encouragement and these verses have been given by totally different sources.  God is up to something!  He always is!  If you have read my devotions for very long you know Jeremiah 29:11 is truly my favorite verse but to have it keep turning up this week in unexpected ways tells me that God wants us to realize that He is working and He has a plan, so hold on!
Have you been in a "valley" feeling as though God isn't listening?  Are you feeling alone in what you are facing?  You aren't alone!  He is working!  Just hold on to Him and trust Him to bring about all that He has promised!  I visited with a group of ladies one  evening and I loved what one of the ladies in the group shared; she said that when she and her husband face rough times she always reminds him, "we can walk on water if we will just keep our eyes on Him!"  Wow!  What a powerful truth in the middle of your storm!  Grab on to that today ladies!  You can walk on water if you will just keep your eyes on Him!  Every time satan tries to tell you that you are sinking, just remind yourself and him (out loud), that you can walk on water!  God loves you!
If you are weathering a storm right now in your life I would encourage you to hold on tight to Him!  Ask Him for His peace and direction!  Ask Him to help you hear Him, I know sometimes when the storm is raging in my life and I begin to feel alone it is because I am allowing the storm to drown out His still, quiet voice.  Allow Him to surround you today with His love and grace!  Hold His hand and walk in His truth!  When satan attacks just tell him that God has a plan and you aren't interested in satan's lies!  Quote this verse and seek God's face.  Allow His peace to rule in your heart today!  The best is yet to come!
Quote:  "Beautiful light is born of darkness, so the faith that springs from conflict is often the strongest and best."  R. Turnbull 
Please take a moment and share your prayer requests and pray for others as well:  CLICK HERE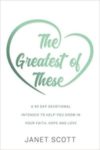 Ladies, I am so excited to share with you that my book is now available.  This would be great to buy and give to someone who is struggling or for your Ladies Group to go through together, or even for someone who doesn't know the Love of God yet.  CLICK HERE.  The new book is a 90-day devotional to help you grow in your understanding of His love which in turn will give you hope and grow your faith.  ALSO: PLEASE, if you have ordered the book would you please go to Amazon and leave a review?  Thank you so much for your support in spreading the word!